SDGs
Declaration

We,RAITO SEKKEI, contribute to creating of a prosperous future that wrapped PEOPLE, ENVIRONMENT, and SOCIETY based on diversity management to reach the achievement of SDGs.
What are the Sustainable Development Goals (SDGs)?
The Sustainable Development Goals (SDGs) are international goals for a sustainable and better world by 2030, adopted unanimously by member countries at the UN Summit in September 2015. The SDGs are universal goals that not only developing countries but also developed countries are working toward, and Japan is actively involved in the SDGs.
Goal
-The Goal of RAITO SEKKEI-
Ⅰ. MANAGEMENT POLICY: We enrich ourselves and company by striving to creating of enjoyable company to do our motto "common thing well."
Ⅱ. QUALITY POLICY: We design safe, secure, and functional lifestyles by improving our knowledge and skills based on our achievements and trust.
Ⅲ. ENVIRONMENT POLICY: We aim to creating of urban development with the eco environment through planning, design, and supervision.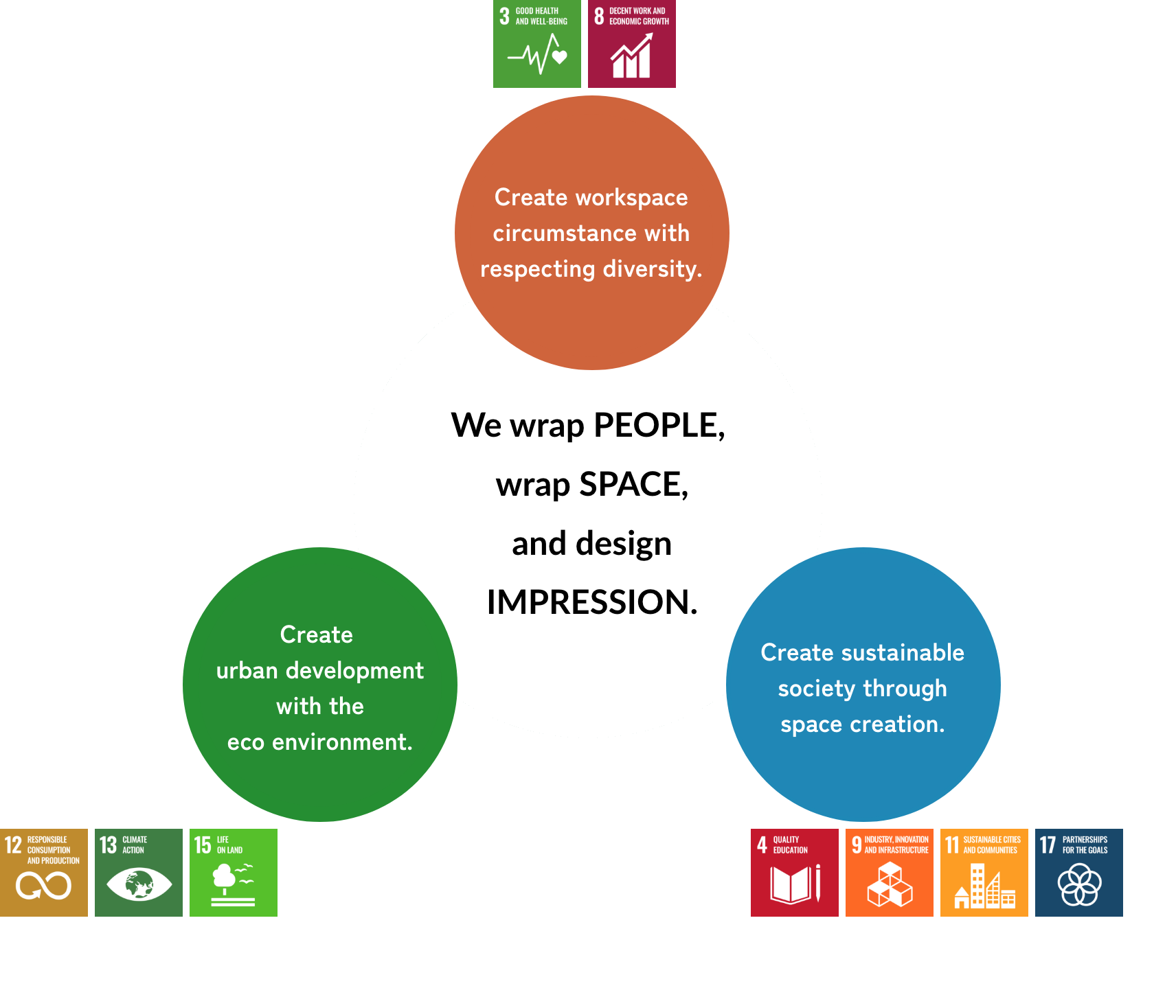 Issue and actions
Create urban development with the eco environment.

We are committed to environmental protection not only by our own company but also by the entire supply chain, and we contribute to creation of urban development environmentally.

Specific Efforts

Propose environmentally design actively

Propose disign by using rocal lumber

Promote Green Procurement and Purchasing

Reduce CO₂ emissions

Promote installation of LED lighting

Promote green space proposals

Paperless by DX

Create sustainable society through space creation.

We will do every systems in response to changes in our lifestyles and contribution activities to local societies with business.

Specific Efforts

Promote work style reforms, improve work efficiency to reduce overtime work, and reduce energy use at the same time

Design with using BIM

Improvement of architectural technicians' skills

Strengthening Internship Initiatives

Proposal for design using local lumber

Disaster-resistant design with using universal design

Use of recycled building materials

Create workspace circumstance with respecting diversity.

We will create a place where every employee can play active roles and do creation of innovative company that continues to create new value.

Specific Efforts

Diversify employment patterns

Improvement of employee satisfaction

Promote Childcare leavea and women's activities

Initiative Mental Health and Health Management Initiatives

Promote the use of annual paid leave

Achieve work-life balance